Reunited,
"Leaders of the South and the North have in fact announced the end of the war on the Korean Peninsula by their agreements," the spokesperson said.Also, the agreement in military sphere was signed by South Korean Defense Minister, Song Young-moo, and North Korean Defense Minister of People's Armed Forces, No Kwang Chol in the presence of the two states' leaders.
According to the joint statement by the leaders, North Korea decided to fully dismantle its rocket testing field in Tonchkhan-ni and will let international observers visit the field.
The statement also said that North Korea was going to dismantle its nuclear reactor in Yonbyon within the framework of agreements with the United States.
​North Korea, bombed to rubble by the US, has struggled to gain a nuclear deterrent to reduce the risk of the US doing that next week, or in the spring, or whatever. North Korea will negotiate with the US to remove the nuclear reprisal threat, as the US removes the threat of sudden attack on North Korea. That will take more than "maximum pressure". That will take cooperation, signing a peace treaty, and removal of American military from Korea. Fair and reasonable...​
SEOUL (Reuters) - North Korea's Kim Jong Un wants a second summit with U.S. President Donald Trump soon to hasten denuclearization, but a key goal is declaring an end this year to the 1950-53 Korean War, the South's President Moon Jae-in said on Thursday.
I
​t is now up to the US to back down the threats and sanctions, and start negotiating the end of America's wartime status in Korea. Finian Cunningham
This is not going to be a unilateral process in which the North gives up its nuclear arsenal without something major in return from Washington. Kim did not specify what US reciprocation would entail. But it is believed to involve security guarantees from the US in the form of a peace treaty to finally end the Korean War.
North Korea would also want a permanent end to the annual US military maneuvers with its South Korean ally, which Pyongyang has always viewed as a provocation to its security. Additionally, if the two Koreas normalize ties and begin a reunification process, then American forces – currently numbering some 28,000 troops – would be obliged to withdraw from South Korean territory.
Let me know how this works out, please. China can't accept this national insult.
It has been barely two weeks since China joined Russia in the "Vostok" war games, the largest display of Eurasian military might since 1981 when the Soviet Union was still a global superpower, and already the US has found an opening to try and drive a wedge between China and Russia, or at least express its displeasure with their increasingly close relationship.
Amid a simmering trade dispute between the US and China, the US has imposed sanctions on a branch of the Chinese military in retaliation for China's recent purchase of Russian combat aircraft and anti-air surface to air missiles.
The sanctions are more of a nuisance than anything else, blocking China's Equipment Development Department from participating in the dollar-based financial system and from doing business with US businesses, while also blocking the agency and its head, Li Shangfu, from applying for US export licenses.
Beijing has threatened that Washington will face "consequences" if it doesn't withdraw the recent batch of sanctions against China over military cooperation with Russia.
China's Foreign Ministry did not mince words, saying Washington should immediately correct its "mistakes" before it's too late or face the consequences for the decision.
"We strongly call on the US to remedy the mistake and cancel the sanctions. Otherwise, the US has to bear the consequences," spokesperson Geng Shuang said as cited by Chinese media.
​China cancels trade talks at last minute:​
Chinese officials have said such pressure tactics wouldn't induce them to cooperate.
By declining to participate in the talks, the people said, Beijing is following up on its pledge to avoid negotiating under threat.
"Everything the U.S. does hasn't given any impression of sincerity and goodwill," Chinese Foreign Ministry spokesman Geng Shuang said at a press briefing Friday.
"We hope that the U.S. side will take measures to correct its mistakes."
Professor Michael Hudson:
Today's financial malaise for pension funds, state and local budgets and underemployment is largely a result of the 2008 bailout, not the crash. What was saved was not only the banks – or more to the point, as Sheila Bair pointed out, their bondholders – but the financial overhead that continues to burden today's economy.
​..​
Trying to save the financial overgrowth of debt service by borrowing one's way out of debt, or by monetary Quantitative Easing re-inflating real estate, stock and bond prices, enables the creditor One Percent to gain, not the indebted 99 Percent in the economy at large. Therefore, from the economy's vantage point, instead of asking how the banks are to be saved "next time," the question should be, how should we best let them go under – along with their stockholders, bondholders and uninsured depositors whose hubris imagined that their loans (other peoples' debts) could go on rising without impoverishing society
​...
An over-indebted economy cannot be saved unless the banks fail. That means writing down the financial claims by the One to Ten Percent – in other words, the net debts owed by the 99 to 90 Percent. Wiping out bad debts involves writing down the "bad savings" that are the counterpart to these debts on the asset side of the balance sheet. Otherwise the economy will suffer debt deflation and austerity.
​..
Quantitative Easing saved creditors and the largest stockholders and bondholders by lowering the interest rates by enough to make it profitable for new loans to inflate asset prices on credit. This revived the value of collateral backing bank loans and bondholdings. "Saving" the economy in this way actually sacrificed it. That is why our "recovery" is only "on paper," a result of calculating GDP to include bank earnings and hypothetical homeowner windfalls as rents are soaring.
​..
What is celebrated as growth of the GDP since 2008 has been mainly the growth in financial extraction, along with the health-insurance sector profiting from Obamacare.
​..
​

Banks have ceased to be an "engine of growth." They are not making loans to create new means of production. They are lending to asset strippers, not asset creators.

​..​




Charles Hugh Smith presents that data in graphic form We are nearing the edge of a "super-cycle" reset.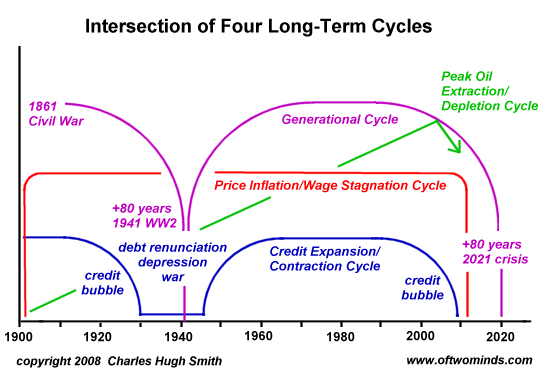 What happened to the Journalists? Where did they go? Pulitzer Prize winner, John Pilger (who is getting older...)
The death of Robert Parry earlier this year felt like a farewell to the age of the reporter. Parry was "a trailblazer for independent journalism", wrote Seymour Hersh, with whom he shared much in common.
Hersh revealed the My Lai massacre in Vietnam and the secret bombing of Cambodia, Parry exposed Iran-Contra, a drugs and gun-running conspiracy that led to the White House. In 2016, they separately produced compelling evidence that the Assad government in Syria had not used chemical weapons. They were not forgiven.
Driven from the "mainstream", Hersh must publish his work outside the United States. Parry set up his own independent news website Consortium News, where, in a final piece following a stroke, he referred to journalism's veneration of "approved opinions" while "unapproved evidence is brushed aside or disparaged regardless of its quality."
Although journalism was always a loose extension of establishment power, something has changed in recent years. Dissent tolerated when I joined a national newspaper in Britain in the 1960s has regressed to a metaphoric underground as liberal capitalism moves towards a form of corporate dictatorship. This is a seismic shift, with journalists policing the new "groupthink", as Parry called it, dispensing its myths and distractions, pursuing its enemies.
​..
Journalism students should study this to understand that the source of "fake news" is not only trollism, or the likes of Fox News, or Donald Trump, but a journalism self-anointed with a false respectability: a liberal journalism that claims to challenge corrupt state power but, in reality, courts and protects it, and colludes with it.
​..
When he was U.S. commander in Afghanistan, General David Petraeus declared what he called "a war of perception… conducted continuously using the news media." What really mattered was not the facts but the way the story played in the United States. The undeclared enemy was, as always, an informed and critical public at home.
​..
In the 1970s, I met Leni Riefenstahl, Hitler's film-maker, whose propaganda mesmerized the German public.
She told me the "messages" of her films were dependent not on "orders from above", but on the "submissive void" of an uninformed public.
"Did that include the liberal, educated bourgeoisie?" I asked.
"Everyone," she said. "Propaganda always wins, if you allow it."



Ilargi, at The Automatic Earth:

And that's the thing all along, isn't it? That people, both readers and journalists, all 200 million Americans of them, think they have acquired the right to judge any person, any situation they read a few lines about, just because they have purchased a smartphone. A faulty notion fed on a daily basis by the fact there are millions who think just like them.

​..​


Meanwhile, there are two people (there are many more, of course) who were banned from the platforms so many others use to draw baseless conclusions and spout empty accusations. And we miss them both, or we should: Alex Jones and Julian Assange. Have they really used 'social' media in worse ways than those 200 million Americans? Or were they banned because millions of Americans were following and reading their non-mainstream views?




Teba Island, "Tebajima", Shikoku Japan, a "Slow Utopia". (no gas station, no under-65s) Thanks Jeanine; not a bad future, for those whose home it is.




Tebajima Guest House: $53/night :-)